Description
The Matter ADP is an Askia template for Web surveys. It is fully responsive.
Click the image below to access a live survey example using the Matter ADP: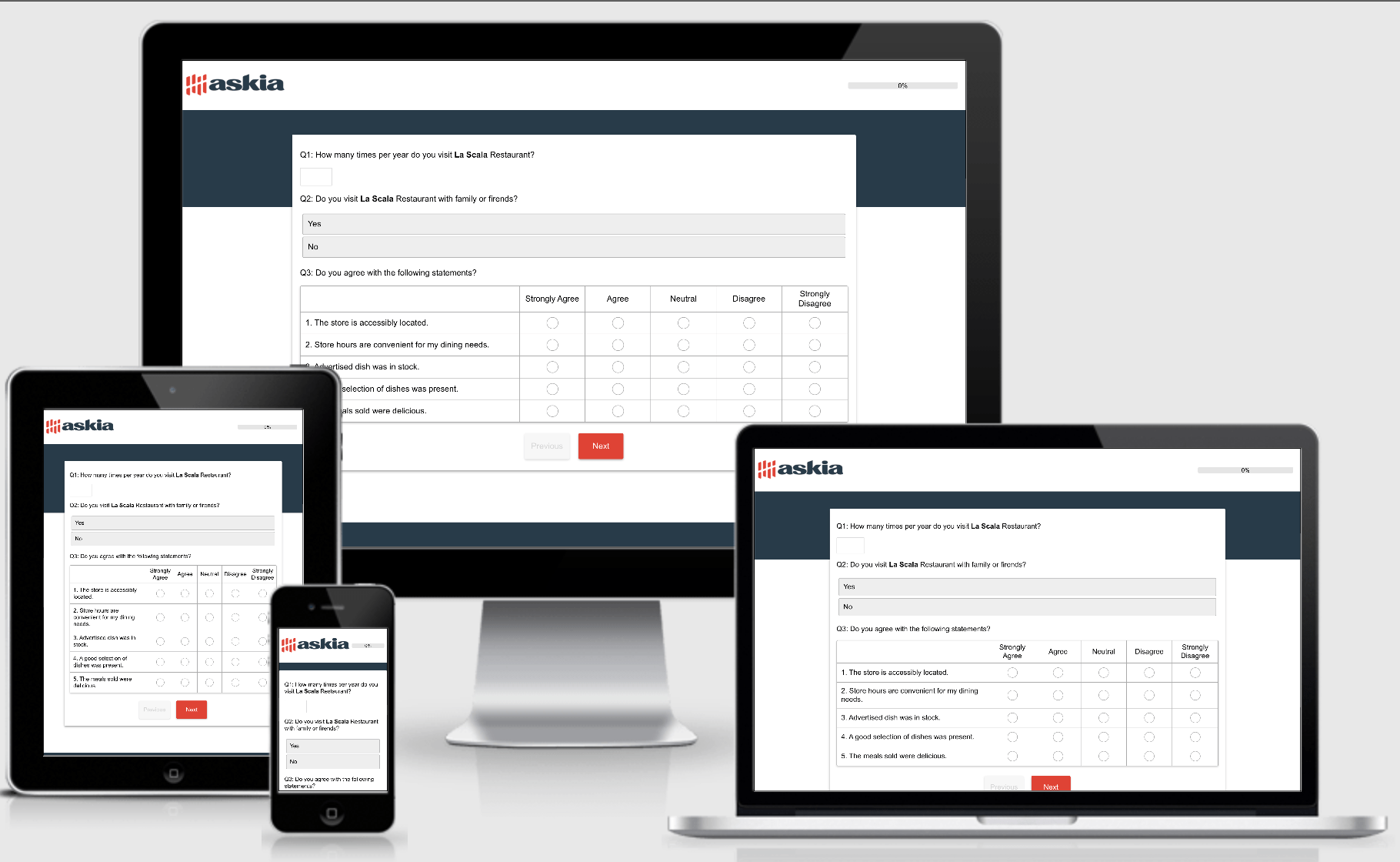 ADP Properties available
Option name
Type
Description
General options
Window title
String
Title displayed on browser tab throughout the survey
Logo path
String
Custom logo source
Logo alternate text
String
Logo text when mouse hovers
Survey Name
String
Name of the survey
Error caption
String
Custom error message
Display progress value
Single-choice
Yes or No
Sticky header
Single-choice
Yes or No
Radio and checkbox size
String
Size of the radio button and checkbox
Ribbon and footer background colour
RGB Colour
The colour of the ribbons of the ADP
headHTML
String
Additional HTML for Head Section
footHTML
String
Additional HTML for Foot Section
Buttons
Alignment
Single-choice
Left, Centre or Right
Display previous
Single-choice
Option to show or hide the "Previous screen" button
Previous caption
String
Caption of the "Previous question" button
Next caption
String
Caption of the "Next question" button
Footer
Display footer
Single-choice
Yes or No
Footer left
String
Footer right
String
Modal
Show modal
Single-choice
Yes or No
This controls whether the Modal should pop up when the respondent clicks next.
Modal content
String
Text or HTML code to be contained within the Modal.
Modal close type
Single- choice
Clicked (Manual) or Timed (Automatic after a set duration)
Duration
Number
Number in seconds
Number of attempts
Single-choice
Any (every time Next is clicked), First attempt only
Modal width
number
Width of Modal in pixels
Modal height
number
Height of Modal in pixels
For developers
The source code is open source and available for developers on GitHub.
It is recommended to read the ADP developer introduction to customize an ADP.