Big changes have been made on restrictions feature, starting with 5.4.3. We brought a new feature named "Module", mainly to manage the API stuff.
In previous versions, the restrictions work roughly like this:
All users are allowed to log in with Cati, AskiaFace, Kodim, …
Users can only log in with Supervisor if 'allow supervisor module' is enabled
If this is the case, you can configure permissions per CCA object
To be able to use the API, users need to have both 'allow supervisor' and 'allow API login' enabled
This has the following drawbacks:
It's impossible to prevent logging in on client applications
If a user needs API access, he always will have Supervisor access
It isn't possible to differentiate API logins
Because of this the new modules feature is introduced and allows:
Changes in restriction properties window
Creation and use ability of custom modules
Modules tab
To check which module can be used within a specific restriction, open first its restriction properties. You can see a new tab, named "Modules" (along with "Agent" and "Management" tabs).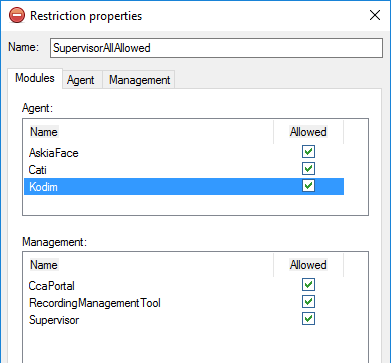 Agent Modules (Modules that can be logged into with an agent restriction)

AskiaFace (for AskiaFace Windows and tablets - Default)
Cati (Default)
Kodim (Default)

Management modules (Modules that require a management restriction to login)

CcaPortal (Default)
RecordingManagmentTool (Default)
Supervisor (Default)
Customer created Module (see creating a module)
Tick or untick to allow or not the usage of a specific module for this restriction.
Agent tab
The "Agent" tab is now a combination of the Cati / Capi / Coding and pause restrictions: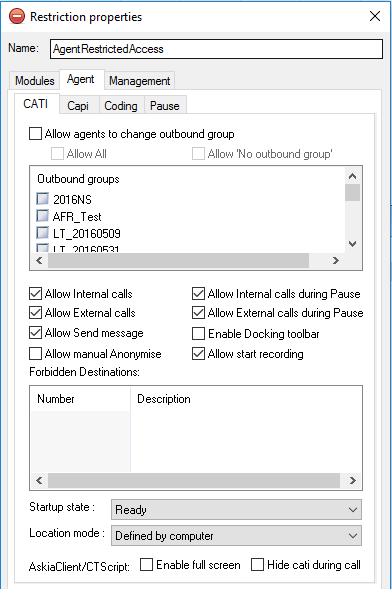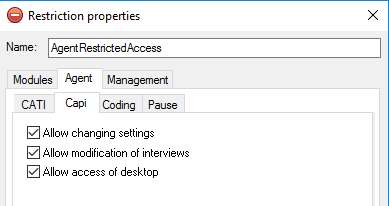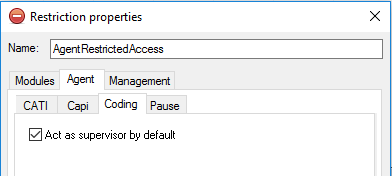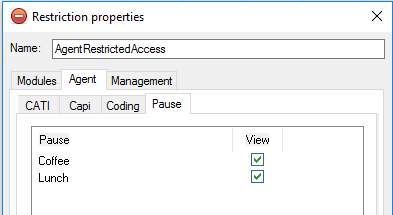 Management tab
Old Supervisor restriction changed to management tab, now useable for all Management modules
'Supervisor only' options are grouped
Rename of "Enable FTP Functionality"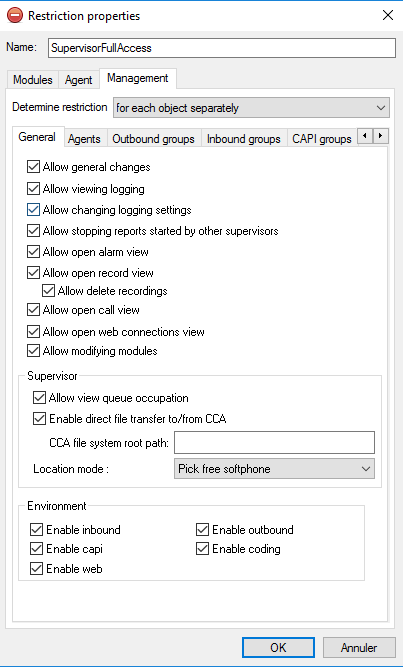 Module creation
You may need to create a new API module.
A management restriction can prevent actions in this window
When logging in using the API, you'll need to specify the module
Future dashboards or applications will receive a hardcoded module name that can be linked here. (Create a new module with the hardcoded name)

To create a new module, go to Ribbon > Extra > Modules: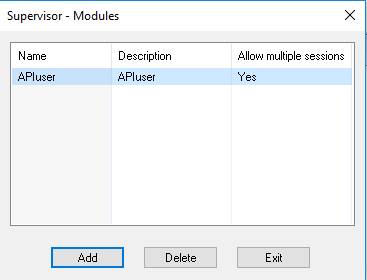 Add a new module
Unique name different from the default names
"Allow multiple sessions per user"