IIS 6 Compatibility Components
These instructions apply to users attempting to install a web service on a server running IIS 7 or later. Those services which are compatible with IIS 6 require IIS 7 to be configured so that it can run IIS 6 applications. Installation on a server running IIS 6 does not require applying these instructions.
Example error dialog on service installation startup: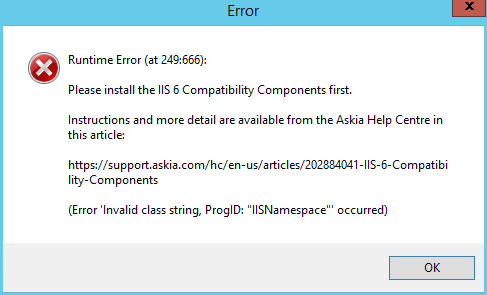 Installation Instructions
Install the IIS 6.0 Management Compatibility Components in Windows Server 2008 R2 or in Windows Server by using the Server Manager tool
Click Start, click Administrative Tools, and then click Server Manager.
In the navigation pane, expand Roles, right-click Web Server (IIS), and then click Add Role Services.
In the Select Role Services pane, scroll down to IIS 6 Management Compatibility.
Click to select the IIS 6 Metabase Compatibility and IIS 6 Management Console check boxes.
In the Select Role Services pane, click Next, and then click Install at the Confirm Installations Selections pane.
Click Close to exit the Add Role Services wizard.
Install the IIS 6.0 Management Compatibility Components in Windows 7 or in Windows Vista from Control Panel
Click Start, click Control Panel, click Programs and Features, and then click Turn Windows features on or off.
Open Internet Information Services.
Open Web Management Tools.
Open IIS 6.0 Management Compatibility.
Select the check boxes for IIS 6 Metabase and IIS 6 configuration compatibility and IIS 6 Management Console.
Click OK