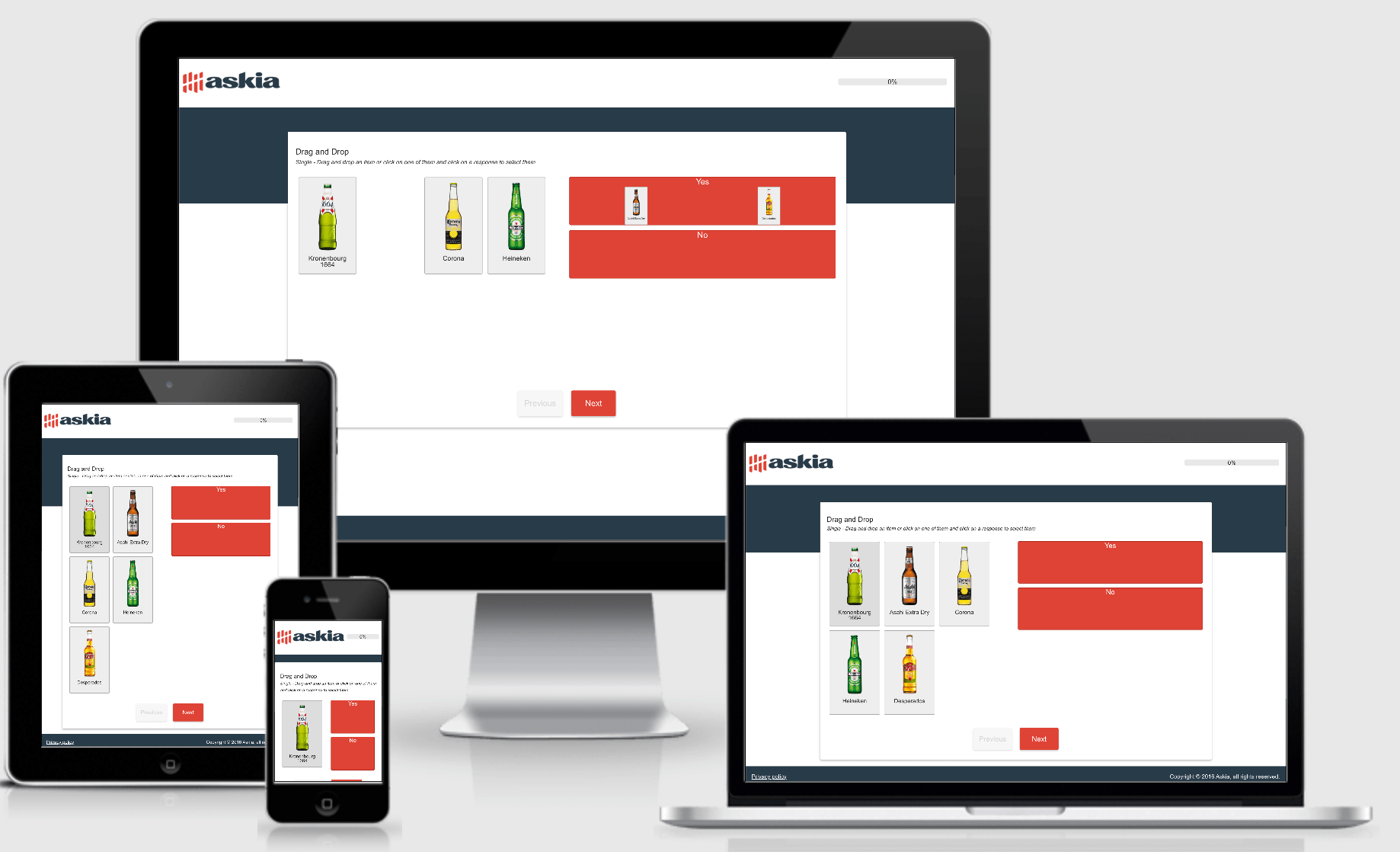 To access to the live survey, click on the picture above.
To download the QEX file (inside the example directory), click here.
Version of the ADC: 2.0.3.
This ADC allows a respondent to drag categories (brands, products, etc.) and drop them into response areas. There are many parameters below to manage this useful and engaging control.
This control is compatible with a single loop question (Grid response block).
Parameters
Type
Comments and/or possible value

General

Stack Responses
Boolean
Automatic Stacking Width
String
Automatically Select Next Response
Boolean
Exclusive Areas
String
Font Size
Number
In pixels
Control Width
Number
In percentage
Max Width
Number
In percentage
Control Alignment
Left, Center, Right'
Animation Speed
Very Fast, Fast, Medium, Slow'

Alignment

Response Text Alignment
Left, Center, Right'
Response Image Alignment
Left, Center, Right'
Response Alignment
Left, Center, Right'

Response Layout

Response Text Position
Top, Left, Bottom, Right'

Responses Styling

Response Width
String
Response Height
String
Response Margin
Number
In pixels
Response Padding
Number
In pixels
Response Text Padding
Number
In pixels
Response Image Padding
Number
In pixels
Response Text Line Height
Number
In percentage
Display Response Text
Boolean
Response Colour Primary
Colour
Response Colour Secondary
Colour
Response Font Colour
Colour
Response Border Colour
Colour
Border Radius
Number
Response Border Thickness
Number
In pixels
Response Border Style
None, Solid, Dashed, Dotted, Double'
Response Drop Shadow
Boolean
Show Response Hover Colour
Boolean
Response Hover Colour Primary
Colour
Response Hover Colour Secondary
Colour
Show Response Hover Font Colour
Colour
Response Hover Font Colour
Colour
Show Response Hover Border
Boolean
Response Hover Border Colour
Colour
Response Hover Border Thickness
Number
In pixels
Response Hover Border Style
None, Solid, Dashed, Dotted, Double'
Response Hover Drop Shadow
Boolean
Selected Response Colour Primary
Colour
Selected Response Colour Secondary
Colour
Selected Response Font Colour
Colour
Selected Response Border Colour
Colour
Selected Response Border Thickness
Number
In pixels
Selected Response Border Style
None, Solid, Dashed, Dotted, Double'
Selected Response Drop Shadow
Boolean

Drop Area

Drop Area Position
Right, Left, Top, Bottom'
Drop Area Container Width
Number
In pixels
Drop Area Width
Number
In pixels
Drop Area Height
Number
In pixels
Drop Area Alignment
Left, Right, Center'
Drop Area Font Size
Number
In pixels
Drop Area Font Colour
Colour
Drop Area Text Alignment
Right, Left, Top, Bottom'
Drop Area Colour Primary
Colour
Drop Area Colour Secondary
Colour
Drop Area Border Colour
Colour
Drop Area Border Thickness
Number
In pixels
Drop Area Border Style
None, Solid, Dashed, Dotted, Double'
Drop Area Border Radius
Number
Drop Area Drop Shadow
Boolean
Drop Area Padding
Number
In pixels
Drop Area Margin
Number
In pixels
Drop Area Text Padding
String

Images

Force Image to Fit
Boolean
Max Image Width
Number
In pixels
Max Image Height
Number
In pixels
Force Image Size
Force width, force height, force both'

Start Area

Start Area Width
Number
In percentage
Start Area Colour Primary
Colour
Start Area Colour Secondary
Colour
Start Area Border Colour
Colour
Start Area Border Thickness
Number
In pixels
Start Area Border Style
None, Solid, Dashed, Dotted, Double'
Start Area Border Radius
Number
Start Area Drop Shadow
Boolean

Fallback

Orientation
Boolean
Horizontal, Vertical'
Image Width
Number