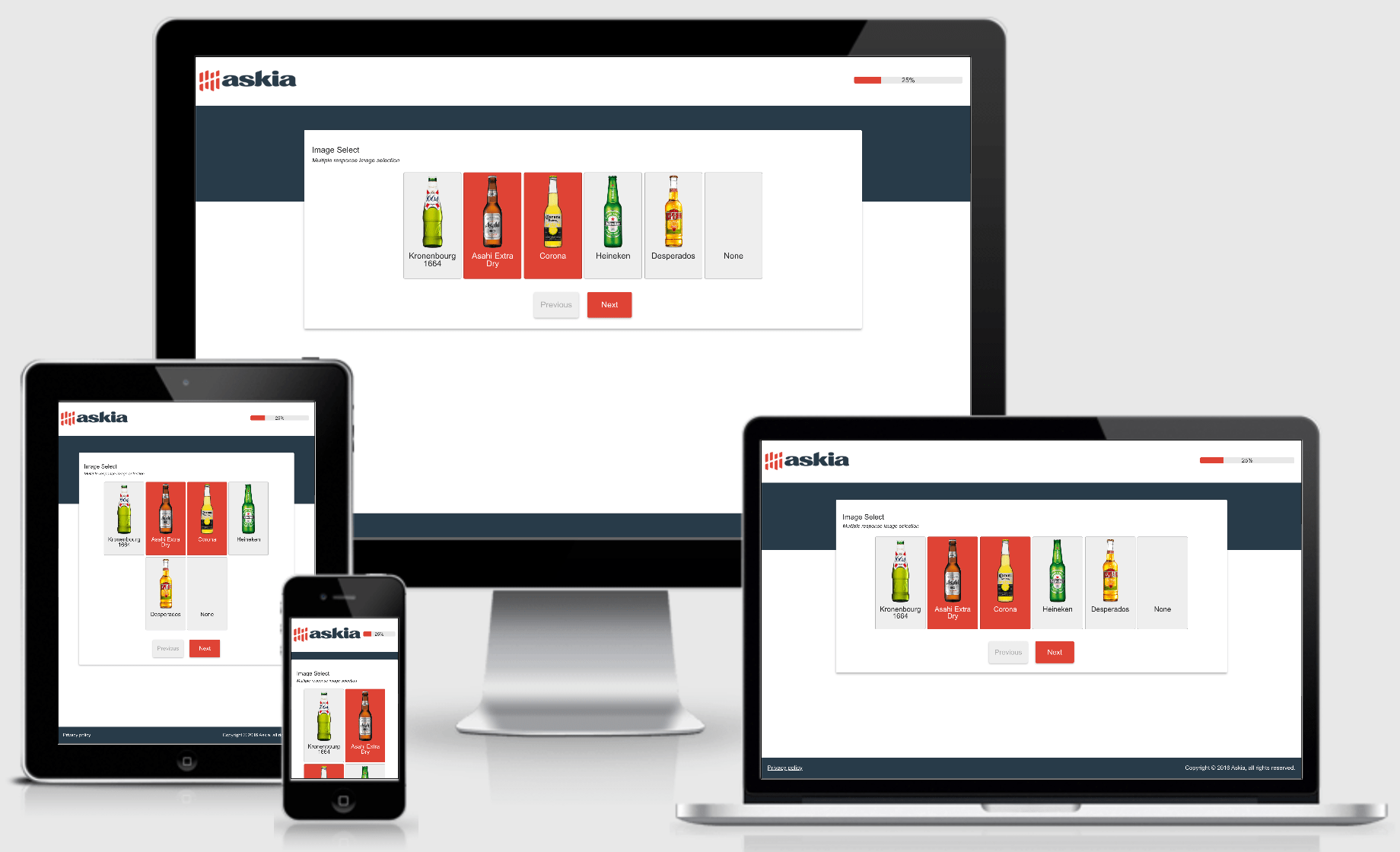 To access to the live survey, click on the picture above.
To download the QEX file (in example directory), click here.
Version of the ADC: 2.0.15.
This ADC is a great way to present a response list made up of a series of images. It works well on all devices and can be controlled with a host of parameters (below).
This control is compatible with a single and multiple question (response block).
| | | |
| --- | --- | --- |
| Parameters | Type | Comments and/or possible value |
| | | |
| General | | |
| Font Size | Number | In Pixels |
| Control Width | Number | In Percentages |
| Max Width | Number | In Percentages |
| Control Alignment | Boolean | 'Left, Center, Right' |
| Columns | Number | |
| Text Alignment | Boolean | 'Left, Center, Right' |
| Image Alignment | Boolean | 'Left, Center, Right' |
| Border Radius | Number | |
| Animate Responses | Boolean | 'No, Yes' |
| Animation Speed | Boolean | 'Very Fast, Fast, Medium, Slow' |
| Auto Forward | Boolean | 'No, Yes' |
| | | |
| | | |
| Responses | | |
| Response text padding | Number | In Pixels |
| Response text Line Height | Number | In Percentages |
| Display response text | Boolean | 'Yes, No' |
| Forced Response width | String | |
| Forced Response Height | String | |
| Force Response size | Boolean | 'Yes, No' |
| Response Colour Primary | Colour | |
| Response Colour Secondary | Colour | |
| Response Font Colour | Colour | |
| Response Border Colour | Colour | |
| Response Border Thickness | Number | In Pixels |
| Response Border Style | Boolean | 'None, Solid, Dashed, Dotted, Double' |
| Response Drop Shadow | Boolean | 'Off, On' |
| Show Response Hover Colour | Boolean | 'Yes, No' |
| Response Hover Colour Primary | Colour | |
| Response Hover Colour Secondary | Colour | |
| Show Response Hover Font Colour | Boolean | 'No, Yes' |
| Response Hover Font Colour | Colour | |
| Show Response Hover Border | Boolean | 'No, Yes' |
| Response Hover Border Colour | Colour | |
| Response Hover Border Thickness | Number | '1px, 2px, 3px, 4px, 5px' |
| Response Hover Border Style | Boolean | 'Solid, Double, Dashed, Dotted, None' |
| Show Response Hover Shadow | Boolean | 'No, Yes' |
| Response Hover Drop Shadow | Boolean | ''On, Off" |
| Selected Response Colour Primary | Colour | |
| Selected Response Colour Secondary | Colour | |
| Selected Response Font Colour | Colour | |
| Response Border Colour | Colour | |
| Response Border Thickness | Number | '1px, 2px, 3px, 4px, 5px' |
| Response Border Style | Boolean | 'Solid, Double, Dashed, Dotted, None' |
| Selected Response Drop Shadow | Boolean | ''On, Off" |
| | | |
| Non-Scaled Responses | | |
| Number of Non-Scaled Responses | Number | |
| Non-Scaled Response Colour Primary | Colour | |
| Non-Scaled Response Colour Secondary | Colour | |
| Non-Scaled Response Font Colour | Colour | |
| Non-Scaled Response Border Colour | Colour | |
| Non-Scaled Response Border Thickness | Number | In Pixels |
| Non-Scaled Response Border Style | Boolean | 'Solid, Double, Dashed, Dotted, None' |
| Non-Scaled Response Drop Shadow | Boolean | ''On, Off" |
| Selected Non-Scaled Response Colour Primary | Colour | |
| Selected Non-Scaled Response Colour Secondary | Colour | |
| Selected Non-Scaled Response Font Colour | Colour | |
| Selected Non-Scaled Response Border Colour | Colour | |
| Selected Non-Scaled Response Border Thickness | Number | '1px, 2px, 3px, 4px, 5px' |
| Selected Non-Scaled Response Border Style | Boolean | 'Solid, Double, Dashed, Dotted, None' |
| Selected Non-Scaled Response Drop Shadow | Boolean | ''On, Off" |
| | | |
| Images | | |
| Max Image Width | Number | |
| Max Image Height | Number | |
| Force image size | Boolean | 'No, Force Width, Force Height, Force Both' |