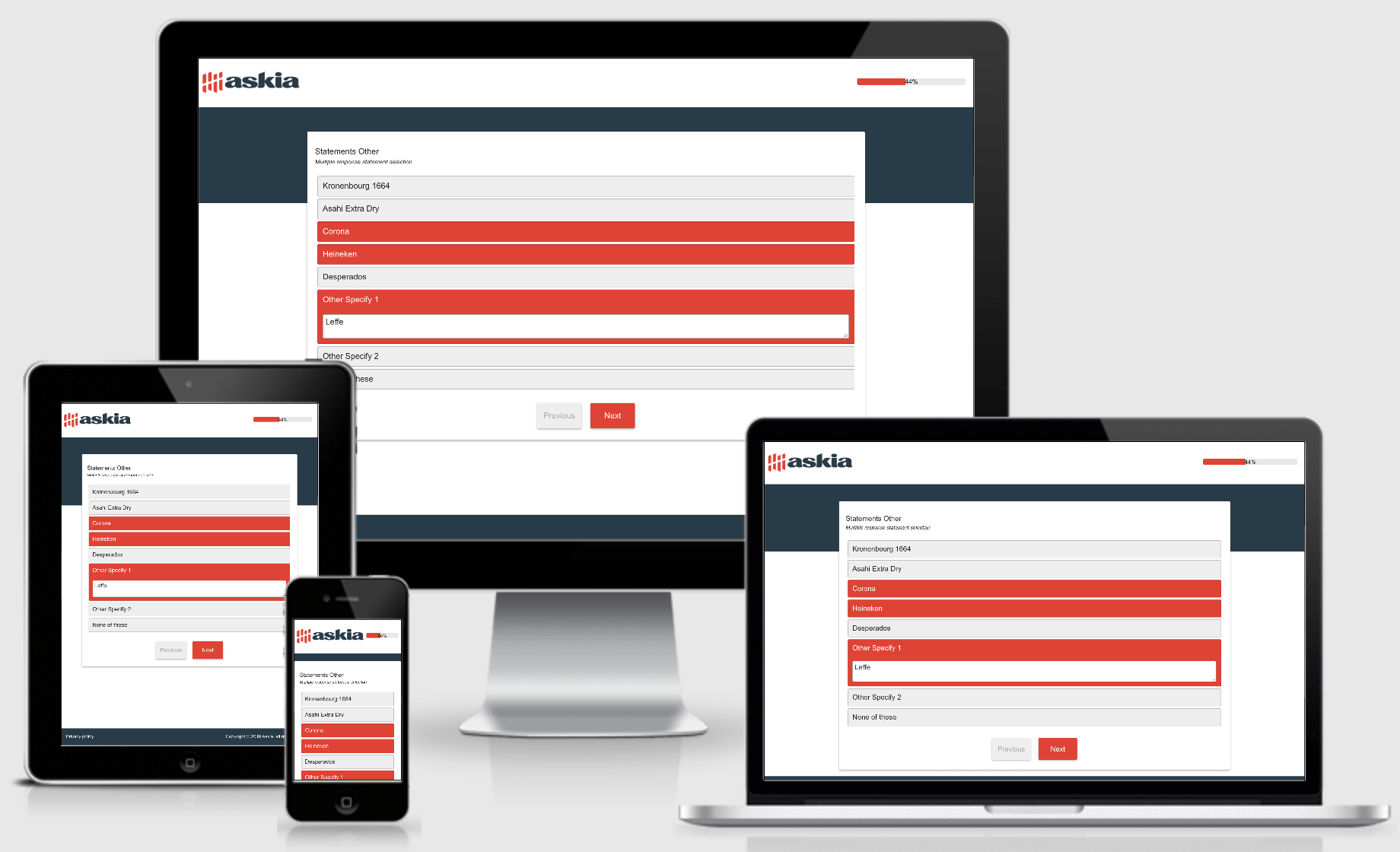 To access to the live survey, click on the picture above.
To download the QEX file (inside the example directory), click here.
Version of the ADC: 2.0.24.
This ADC presents responses in neat rectangles that are easy for respondents to click on (they can click anywhere on the rectangle). This version additionally caters for the collection of "other specify" responses. Fully mobile responsive.
This control is compatible with a single and multiple question (response block) + an open ended question. The ADC is controllable with many parameters, as listed below:
Parameters
Type
Comments and/or possible value
Animation
animation
Number
Possible value from 0 to 5
0: No animation
1: Responses appear one by one
2: Responses appear one by one from left to right
3: Responses appear one by one from right to left
4: Responses appear one by one from top to bottom
5: Responses appear one by one from bottom to top
animation_length
Number
For instance 0.3
Font
font
Number
Possible value from 0 to 6
0: Arial
1: Verdana
2: Tahoma
3: Courier
4: Garamond
5: Times New Roman
6: Arial Unicode
Statement
align
String
Possible value "left" or "center" or "right"
columns
Number
Number of columns to use
leftToRightOrder
Boolean
boxPrimaryColour
Colour
boxSecondaryColour
Colour
boxUseGradient
Boolean
boxGradientAngle
Number
Possible value from 0 to 360
boxUseRange
Boolean
boxBorderSize
Number
boxBorderColour
Colour
boxFontColour
Colour
boxFontSize
Number
boxFontShadow
Boolean
boxFontInnerShadow
Boolean
boxFontBevel
Boolean
boxBevel
Boolean
boxShadow
Boolean
boxPadding
Number
boxMargin
Number
boxCurvedCornersAmount
Number
Statement (selected)
selectedPrimaryColour
Colour
selectedSecondaryColour
Colour
selectedBorderSize
Number
selectedBorderColour
Colour
selectedUseGradient
Boolean
selectedGradientAngle
Number
Possible value from 0 to 360
selectedFontColour
Colour