| | |
| --- | --- |
| Summary | This article describes how to use the AskiaVoice simulator. |
| Applies to | AskiaVoice |
| Written for | Fieldwork manager |
| Keywords | simulator; voice; askiavoice; cati |
What you need
1/ Having CATI installed on your machine.
2/ Having a group of CATI agents declared on your CCA with NO password set.
3/ Remove all "Send email" or "Start SQL" queries. The simulators will act like a real agent, so...
Procedure to use the AskiaVoice simulator tool
1/ Pick up the Askiasimulator exe, according to the version installed on your machine: Version 5.3.5 or version 5.4.4, unblock it, unzip it and add it at the root of your askiaclient folder (something like: C:\Program Files (x86)\AskiaField\AskiaClient )

2/ Unblock and unzip the MultiSimulator v9.zip and start it.
3/ Check the CATI path (that should match with your installation)

4/ Change the Askiapath (change the AskiaClient.exe to AskiaSimulator.exe) and Click on "Save"

5/ Once done, click on "Start"

6/ The list of CATI agents declared on your CCA will appear. Simply check the box in each agent wanted for the simulation and press "OK". A location will be automatically set for each of the Simulator started.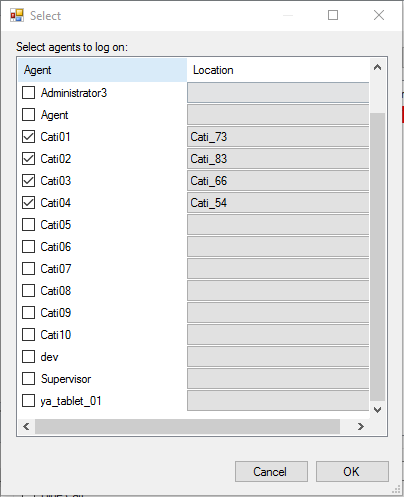 7/ Then start your sample list and you will see the simulator working.
You have some options to use like pause, resume, close (for all of them in the menu above) or individually, with a right click on selected agent.
Note: Please keep in mind that modified PCs will run simulators every time CATI is started. To run the normal CATI for Agents, please revert the AskiaPath key back to AskiaClient.exe.