Report: Statistics on emailing
Description
Supervisor > Sample List > Right-Click > Monitor > Statistics on Mails: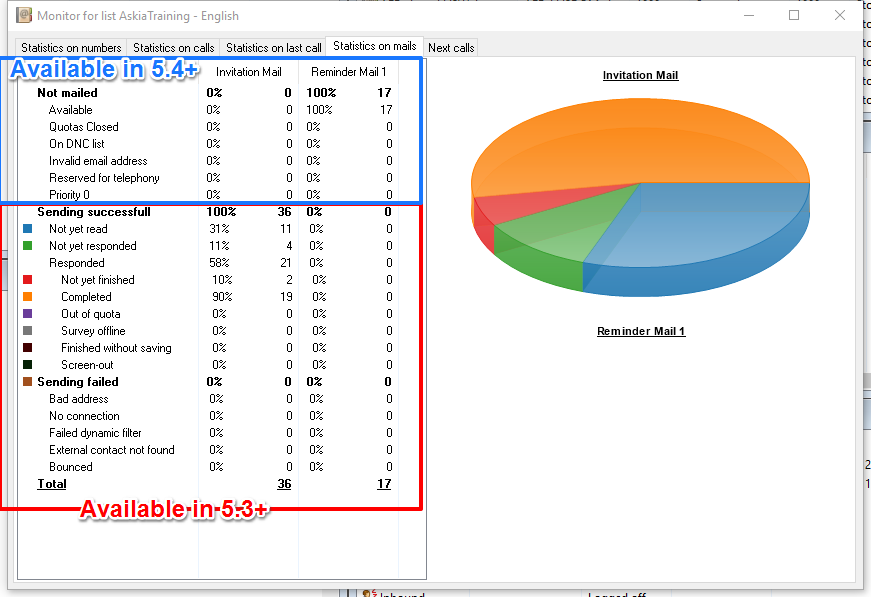 Below is a layout and brief description of all of the categories located within the "Statistics on mails" tab:
Sending successful

Not yet read - the invitation email hasn't been opened.
Not yet responded - the invitation email has been opened but the survey link has not been clicked.
Responded - the invitation email has been opened and the survey link has been clicked.
Not yet finished – the respondent has started the survey but has not finished.
Completed – the respondent has finished the survey.
Out of quota – the respondent has been quota-failed out of the survey.
Survey offline – the respondent clicked the survey link while the survey was set offline in WebProd.
Finished without saving – the "go to and mark as incomplete" routing logic has been used.
Sending failed

Bad address – the email address field in the sample list had an unauthorised character, i.e. comma, semicolon, etc.
No connection - CCA lost connection with the SMTP server - this error can happen when a batch of emails sent is stored in memory and then CCA loses its connection with the SMTP server.
Failed dynamic filter - when an emailing filter added cannot be executed, e.g. a missing field, wrong type, bad query, etc.
External number not found - when one or more contacts from an external database (present during the creation of the sample list) are no longer part of the external database (i.e. a mismatch between the external database and the current sample list). This can happen when setting some fields as dynamic and/or there is an issue on export.
Bounced – the invitation email never got to the intended recipient, e.g. non-existent email address, undeliverable email address, mailbox full, blocked, etc.
Reference