Sending survey invitations via an email campaign is a crucial step in getting a good response rate. There are a number of key things that are need to make a successful campaign and to avoid your invitations being categorised as SPAM.
Avoid Spam trigger words

Make the subject of your message as customized and attractive as possible and the avoid following phrases: e.g. "Win...", "Great deal..." or common spam trigger words - listed below . . .
Even the content of the email can determine whether or not your email campaign will end up in spam filters. Make sure you avoid using "How to make money by answering an online survey" or any sentence that could be mistaken with a scam.
Remember that if many people mark you email as spam, it will increase the likelihood of mail providers automatically flagging your emails as spam in later campaigns.
Use a survey link with a DNS
Whichever Survey links you will use:
DoPanel (if you send the mailing through the Supervisor) or
DoExternalPanel (if you use a third party emailer)
In the body of your message, don't send any URL survey link including an IP address.
Use always use a DNS (Domain Name System). So we recommend a link like:
https://www.mywebserver.com/Webprod...
rather than:
http://255.25.25.36/Webprod...
Limit Images / animations in email
The fewer images and animations there are and therefore the closer your email is to plain text the better, for avoiding falling foul of the spam filters.
If you have to include an image, insert a link to the image
http://www.server.com/WebProd/Resources/logo.jpg
rather than as an attachment.
Make sure you use the same domain as your survey's invitation link and avoid using resources that aren't hosted on the same domain.
Avoid attachments
Most of client email systems scan the attachment and if they don't trust the attachment, they will automatically block your message.
When creating your template, keep the HMTL code as simple as possible. There are online editors that can help with building your template and in WYSIWYG, like https://htmleditor.tools/
With regard to images, there is one exception, and this is in order to get some statistics about the read status of an email. A small, 'hidden' image is added by CCA to invites to record when an email is opened (email detection link). This is counted in List > Monitor > Statistics on mails > Not yet read / read figures. This image is added when you have an open and close body tag in the email invite:
Add an unsubscribe link
From 5.5.2 onwards we have an integrated unsubscribe solution.
This will encourage a reluctant contact to unsubscribe, rather than mark your message as spam. Once the contact has unsubscribed they will be automatically removed from any reminders emails that will be sent.
Declare an SSL certificate
Declare a SSL certificate on your web server and use https links.
The main task of a SSL certificate is to provide authentication to a website.
Sender Policy Framework (SPF)
You or your IT department must check the following SPF: https://en.wikipedia.org/wiki/Sender_Policy_Framework

This is used to identify 'spoofed' emails. If emails are being rejected, check the domain name for an SPF record. E.g. your company's servers may not be in any blacklists but if the reply address (Reply-To, FROM) has a domain name that is not yourcompany.com then it is important to make sure the SPF file includes your SMTP servers (smtp.xxx.xxx.com, 01.01.010.1/01) as authorised senders.
You can check your DNS entry here: http://www.kitterman.com/spf/validate.html or here: https://mxtoolbox.com
Batch frequency
You can slow or increase the batch frequency of emails according to your target (e.g. you will likely have different mail grouping settings if you do a B2B or consumer survey).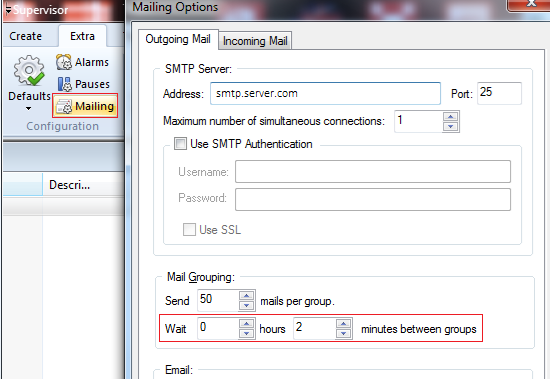 That can be set for all emailing performed from your CCA or by list, when overriding default settings in List properties > Mailing > Mail Grouping.
Finally , test your emailing!
To engage the respondent further then please read this blog article