| | |
| --- | --- |
| Summary | This article gives you access to the Smiley Rating adc 2.0 Javascript control. You also got access to a live example, qex file example and details of the parameters available for this control. |
| Applies to | askiadesign |
| Written for | Scriptwriters and survey authors |
| Keywords | adc; adc2; javascript; control; design; askiadesign |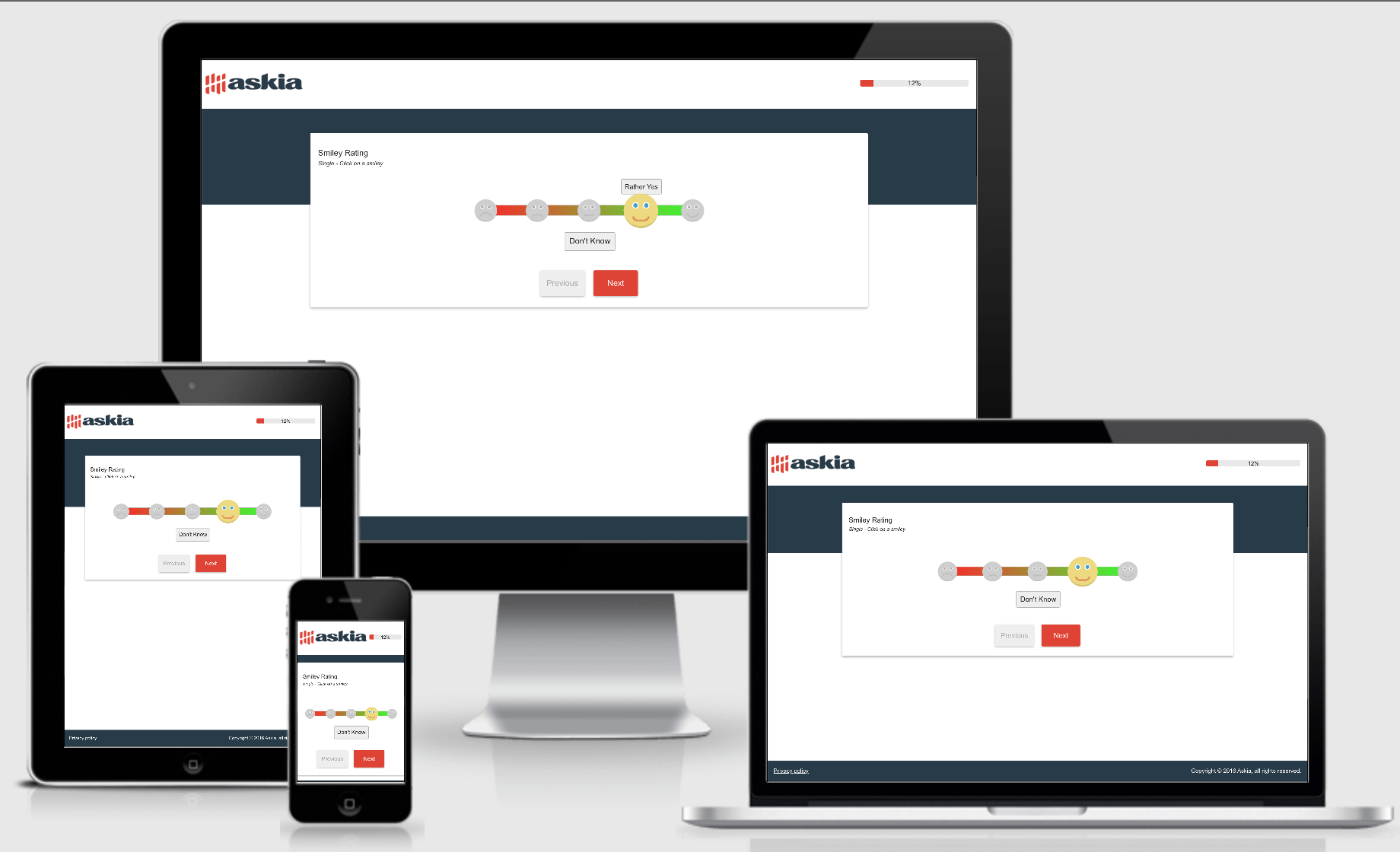 To access to the live survey, click on the picture above.
To download the qex file (in example directory), click here
Version of the adc: 2.0.3
This control is compatible with a single question (response block) and loop single question. You can have 2, 3, 4 or 5 smileys and optionally a DK button.
| | | |
| --- | --- | --- |
| Parameters | Type | Comments and/or possible value |
|   |   |   |
| General |   |   |
| Control Alignment | Boolean | 'Right, Center, Left' |
| Control Width | Number | In Percentages |
| Control Max Width | Number | In Pixels |
| Control Padding | String |   |
| Animate | Boolean | 'Yes, No' |
| Animation Speed | Number | In Milliseconds |
| Auto Forward | Boolean | 'Yes, No' |
|   |   |   |
| Fallback |   |   |
| Is In Loop | Boolean | 'Yes, No' |
| Use a selection list | Boolean | 'Yes, No' |
|   |   |   |
| Smileys |   |   |
| Smiley icon set | Boolean | 'Standard Set, Flat Set' |
| Smileys Orientation | Boolean | 'Left to Right, Right to Lef' |
| Smiley Size Coef | Number |   |
| Smiley Big Size Coef | Number |   |
| Smiley Min Size | Number | In Pixels |
|   |   |   |
| Background Bar |   |   |
| Background Height | Number | In Pixels |
| Drop Shadow | Boolean | 'None, Outside, Inside' |
| Primary Colour | Colour |   |
| Secondary Colour | Colour |   |
| Gradient Type | Boolean | 'Horizontal, Vertical, No gradient' |
|   |   |   |
| Background Border |   |   |
| Background Border Colour | Colour |   |
| Background Border Thickness | Number | In Pixels |
| Background Border Style | Boolean | 'Solid, Double, Dashed, Dotted, None' |
| Border Radius | Number |   |
|   |   |   |
| Looped Questions |   |   |
| Caption Alignment | Boolean | 'Left, Right, Center' |
| Caption Padding | String |   |
| Caption Width | String |   |
| Font Clour | Colour |   |
| Font Style | Boolean | 'Normal, Italic, Oblique' |
| Font Size | Number | In Pixels |
| Image Alignment | Boolean | 'Left, Right' |
|   |   |   |
| Label Image |   |   |
| Image Padding | Number | In Pixels |
| Max Image Width | Number |   |
| Max Image Height | Number |   |
| Force Image Size | Boolean |   |
|   |   |   |
| Tool Tips |   |   |
| Show tooltips | Boolean | 'Yes, No' |
| Tooltip Font Size | Number | In Pixels |
| Tooltip Font Colour | Colour |   |
| Tooltip Curved Corners | Number | '0, 2, 5, 10, 15, 20, 25, 30' |
| Tooltip Colour Primary | Colour |   |
| Tooltip Clour Secondary | Colour |   |
| Tooltip Padding | String | In Pixels |
| Tooltip Border Colour | Colour |   |
| Tooltip Border Thickness | Number | In Pixels |
| Tooltip Border Style | Boolean | 'None, Solid, Dashed, Dotted, Double' |
|   |   |   |
| DK |   |   |
| Turn on DK question | Boolean | 'Yes, No' |
| DK Alignment | Boolean | 'Right, Center, Left' |
| DK Text | String | Enter 'DK' Message here" |
| DK Text Padding | Number | In Pixels |
| DK Margin | String |   |
| DK Primary Colour | Colour |   |
| DK Secondary Colour | Colour |   |
| DK Font Colour | Colour |   |
| DK Font Size | Number | In Pixels |
| Border Radius | Number |   |
| DK Border Colour | Colour |   |
| DK Border Thickness | Number | In Pixels |
| DK Border Style | Boolean | 'None, Solid, Dashed, Dotted, Double' |
| DK Drop Shadow | Boolean | 'Off, Outside, Inside' |
| Show DK Hover Colour | Colour |   |
| DK Hover Primary Colour | Colour |   |
| DK Hover Secondary Colour | Colour |   |
| Show DK Hover Font Colour | Colour |   |
| DK Hover Font Colour | Colour |   |
| Show DK Hover Border | Boolean | 'Yes, No' |
| DK Hover Border Clour | Colour |   |
| DK Hover Border Thickness | Number | In Pixels |
| DK Hover Board Style | Boolean | 'Solid, Double, Dashed, Dotted, None' |
| Show DK Hover Shadow | Boolean | 'On, Off' |
| DK Hover Drop Shadow | Boolean | 'Off, Outside, Inside' |
| DK Selected Primary Colour | Colour |   |
| DK Selected Secondary Colour | Colour |   |
| DK Selected Font Colour | Colour |   |
| DK Selected Border Colour | Colour |   |
| DK Selected Border Thickness | Number | In Pixels |
| DK Selected Border Style | Boolean | 'Solid, Double, Dashed, Dotted, None' |
| Show DK Selected Drop Shadow | Boolean | 'Off, On' |
| DK Selected Drop Shadow | Boolean | 'Off, Outside, Inside' |